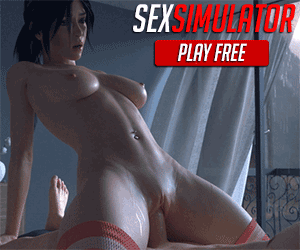 If you're porn game library could use a facelift, look no further than the vast adult game resource that is Affect3D. In this Affect3D review, we will examine both the good and the bad of using the Affect3D Store. Hint: The bad is it cost a pretty penny, the good is they do have some solid porn game options (scroll to see a few notable ones).
Affect3D is a massive collection of not only 3D porn games, but also standard definition. They offer a number of titles they created, but also sling other producer's games.
Affect3D offers porn games for your Mac, PC, and a number of XXX Android games. One of their more popular offerings, 3DX Chat, is listed as one of our best 3D Porn Games this year.
Affect3D – What To Know

Affect3D's roots are tightly woven with the 3D porn game industry. They were founded back in 2010 and today are known for a number of popular adult game titles. These include Ayako: Sex Addiction and Ayako: The Blowjob, Girlfriends 4 Ever, Tara's First Assignment and Tara's Second Assignment, and Bloodlust: Cerene – Royal Descent and Bloodlust: Cerene.
Their main developer and founder, known by the handle 'Miro,' not only uses the revenue of these huge XXX game hits to fuel Affect3D's innovation, but he's also an avid user of Patreon, a membership site that allows more direct consumer relationships. For Affect 3D fans, the Patreon option allows them to get exclusive access to bonus material and new games. Affect3D memberships via Patreon are typically under $3 per month. For 3d porn game fans, this is ultra-cheap.
Affect3D Store – A Vast Library of XXX Games
The Affect3D store is the focus of many porn game enthusiast and with good reason. Their adult game library is massive, easy to browse, and simple to make a purchase.
Here's a look at the Affect3D store interface.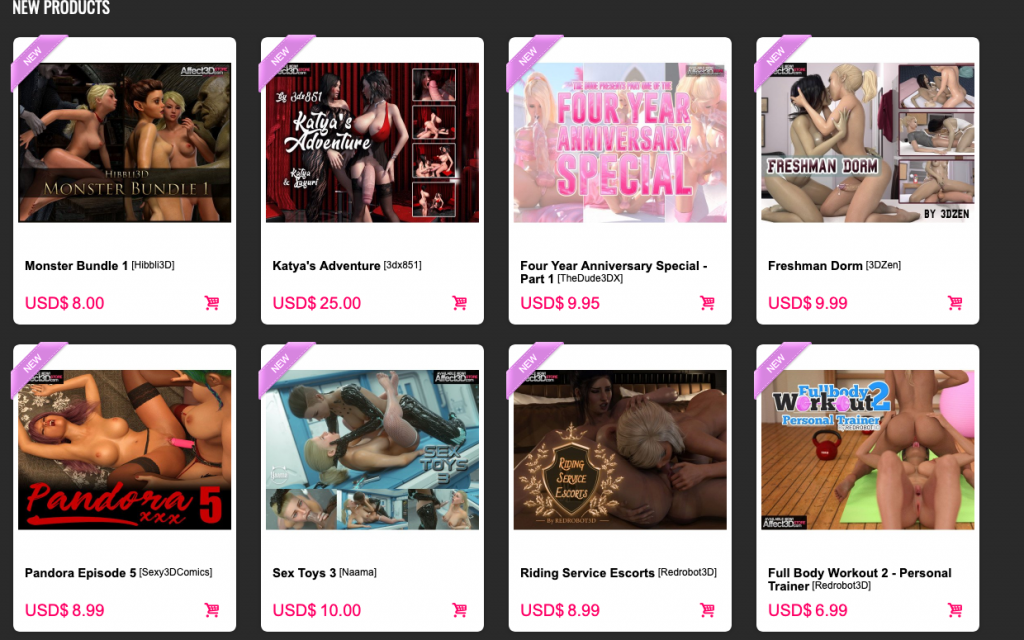 "Porn Worth Buying" hangs below the Affect3D logo as the store's core tagline. The game library alone is home to over 50 big-ticket porn game titles. While the store also sells loads of animations and adult comics, the porn game stash is the big draw.
The Affect3D Store sells the highest quality porn games online. But keep in mind, unlike our free porn game offerings, Affect3D's store will cost you. I'm not saying it isn't worth it, I'm simply warning you to prepare to break out the old credit card before you surf their library.
Affect3D Store's main capacity is high-end porn gaming experiences. They cater to those who are willing to pay for adult games, rather than stick the bill to the advertisers. They are one of the most popular porn game store options online today.
Now, it's important to remember that Affect3D Store's genres include animations and comics. But I don't want to focus too much on those genres, so let's quickly go over them.
Animations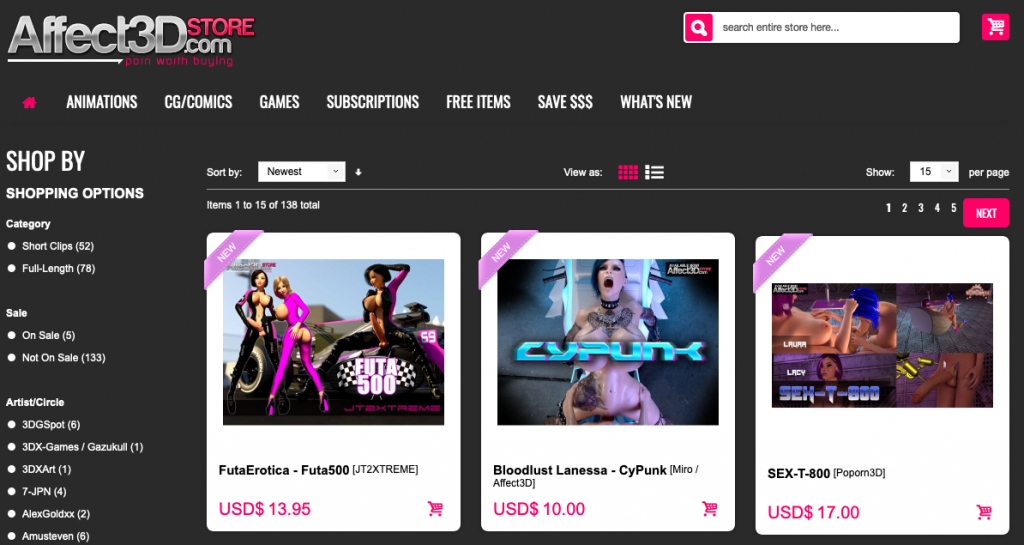 There are two main categories in the Affect3D Store's animation section, short clips and full-length.
Beyond that, you can search porn animations by the date they were released, including the newest installations. You can search by title and even price or creator. On average, expect to pay $10 to $30 per clip.
There are over 100 animation clips to choose from inside the store.
CG Comics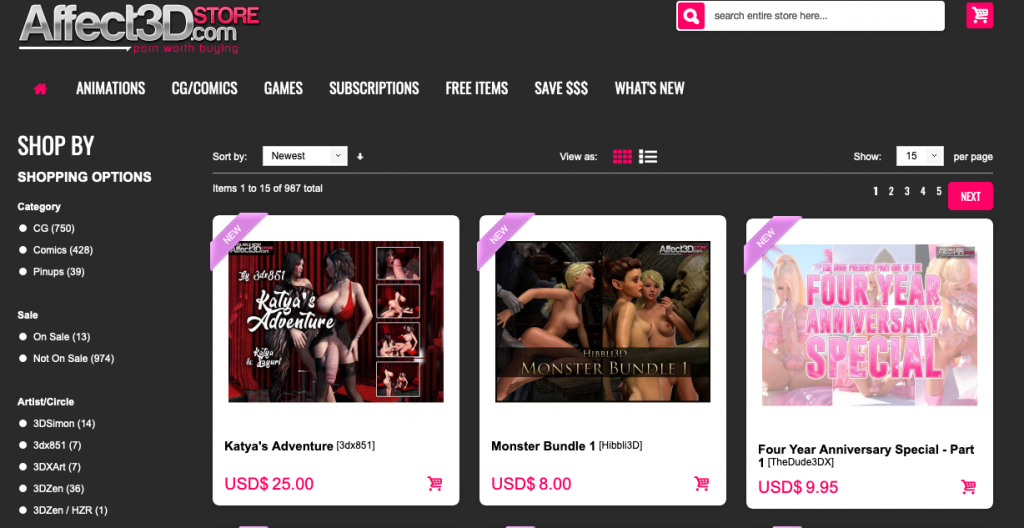 There are three main categories under this division: CG, Comics, and Pinups. Again, you are looking at the $9 to $30 price point range on average. You can search by title, artist, and release date.
This is Affect3D's biggest section, hosting over 700 comics.  If you are looking for a premium porn comic, you'll no doubt find it in this section of the store.
Porn Games
At the date of this Affect3D store review, the porn game section displayed 59 offerings. While they do have some demos that are free, expect to pay in the $10 to $20 range for your favorite porn game.
There are three main categories:
You will also find a lot of options for straight and gay users, as well as Futanari.
Featured artists include 3DX-Games / Gazukull, Cyprine, Gazukull, NunYa, and Olympus.
In terms of genre, the Affect3D Store covers fantasy, comedy, contemporary, mystery, romance, and horror. There is also a decent Porn 3D section. You can check out my porn game 3D guide here.
Affect3D Store's library consists of premium porn game experiences, but it's not updated all too often. That's because most consumers opt for free porn game experiences, unsurprisingly.
That said, there are some doozies in the store if you are willing to shell out the bucks for them.
For example, here's one of their big premium porn game titles.
Bloodlust: Cerene – Royal Descent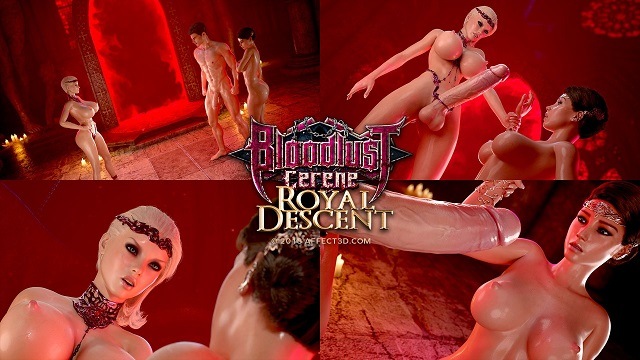 One of Affect3D Store's most popular games, Bloodlust: Cerene – Royal Descent highlights the powerful usage of 3D gaming technology. This game is 100% medieval by every standard and will suck you into a porn fantasy like no other you've ever experienced.
Cerene, a medieval vampire, is mostly interested in sexual excursions. She's attempting to literally suck the throne into immorality and perversion.
This 3D porn game plays well to those who enjoy dominatrix-type porn game experiences.
But Bloodlust: Cerene – Royal Descent is pricey at nearly $25. Just something to keep in mind.
Here's a couple of other noteworthy popular adult games found in the library.
My Private Secretary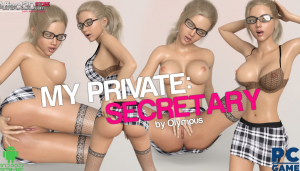 Created by Olympus and sold in the Affect3D Store, My Private Secretary allows users to get "assistance" in any way they may need. And you can do so from an Android or PC device. (View Here)
Home Alone by NunYa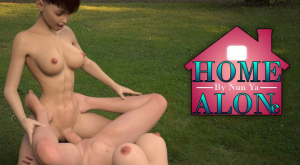 Created by porn game legend NunYa, Home Alone is about a hot girl who's parents have left her unexpectedly. You can allow your imagination to fill in what happens in this game. (View Here)
Affect3D Passwords – We Recommend You Stay Away
Because Affect3D costs money, you'll find a lot of sites claiming to offer up Affect3D passwords.
While this may sound appealing, we don't recommend it. Those sites might be offering fake Affect3D passwords just to lure you into sites that install malware.
It's always best to exercise caution when cruising sites that rip passwords from membership sites. Aside from ethical perspectives, you don't want your pretty Macbook Pro to crap out or your Chrome browser to suddenly display crazy ads.
Remember, any Affect3D password you find posted online costs in some way. It may just be with your computer or browser's health.
Conclusion
Affect3D Store is a good option for premium porn game connoisseurs. There is no doubt that the store carries some high-quality porn game options. You can also find porn comics and animations if that's your thing. Affect3D Store is easy to navigate, you'll find options to search by artist, freshness, and genre.
But the bad news is that virtually all of their games cost money. Moreover, the options for games are thin because these big porn game creators aren't relying on ad revenue. If you've exhausted yourself on our site, it's not a bad option to check out some of the paid games on Affect3D.