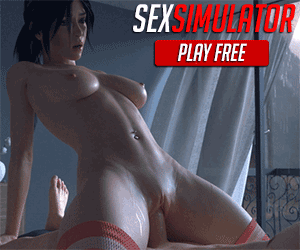 There is no doubt that copying is a sign of flattery, particularly in the adult gaming business. That's a free market at work. But in the case of my Pussy Saga review, I think you'll find that sometimes, copying can be an egregious act.
But does that make this review of Pussy Saga a negative one? Sort of. Kind of. Let's see.
Pussy Saga is an OnMedia game that's hosted on Nutaku. You'll need a free Nutaku account if you want to play. But I'd encourage you to check out my Pussy Saga review, first. I mean, I did the work for you already.
But is it any good? Eh…read on…
Pussy Saga Review – The Brass Tacks
Pussy Saga is a 3-puzzle game whereas you match puzzle pieces and get rewarded with sex (eventually). The idea is that you meet girls, figure out if you are a match. If you are, you go on a date, which are the puzzles. If you can solve the puzzles, you have sex.
Let's look closer at the infamous Pussy Saga conversation tree. Essentially, the concept is to ask questions of these hot anime girls and figure out if any of them are right for you. This is before the puzzle stage (the date you earned).
So let's cut to the chase right now, Pussy Saga is a rip off of HuniePop. Copy, rip off, inspired by, whatever term you want to use. Copying in and of itself isn't a terrible thing, there are only so many great ideas that happen all at once.
But.
Pussy Saga is sort of a cheap play to the original HuniePop fashion. That begins with the cheap conversation tree that determines if you are a match for a XXX anime girl.
In HuniePop, the dialogue is rather extensive and sophisticated. That experience is deeply cheapened in Pussy Saga, whereas the questions you ask your potential date are somewhat a nasty adolescence style inquisition. There's not much depth when you consider this game does cost.
Here's a specific example: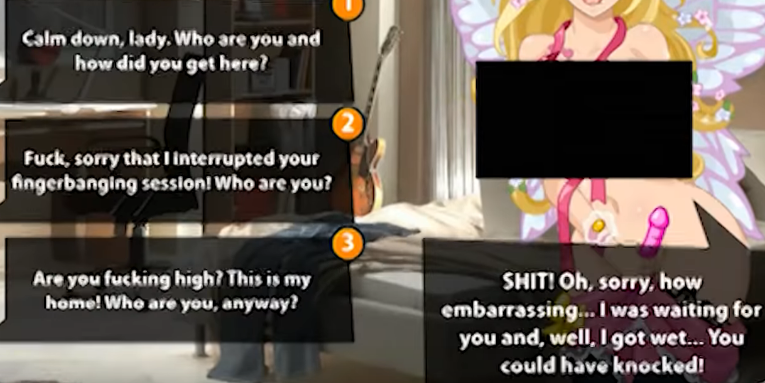 Look, no one's looking for extravagant erotic talk, but Pussy Saga's conversation tree feels a lot like developers had a smoke break and were like, "fuck it, just put something in, let's go home."
But to each, their own, as they say. Whoever "they" are. While this may not reflect other Pussy Saga reviews, I'm just calling it how I see it.
The Puzzle Stage
The puzzles are a 3-puzzle game to test out whether or not you are worthy of an end of date sex experience. You could compare these puzzles to the experience of playing a game like Candy Crush.
You need to move icons into rows of three, whether that be vertical or horizontal. This is how you earn points. Here's a look: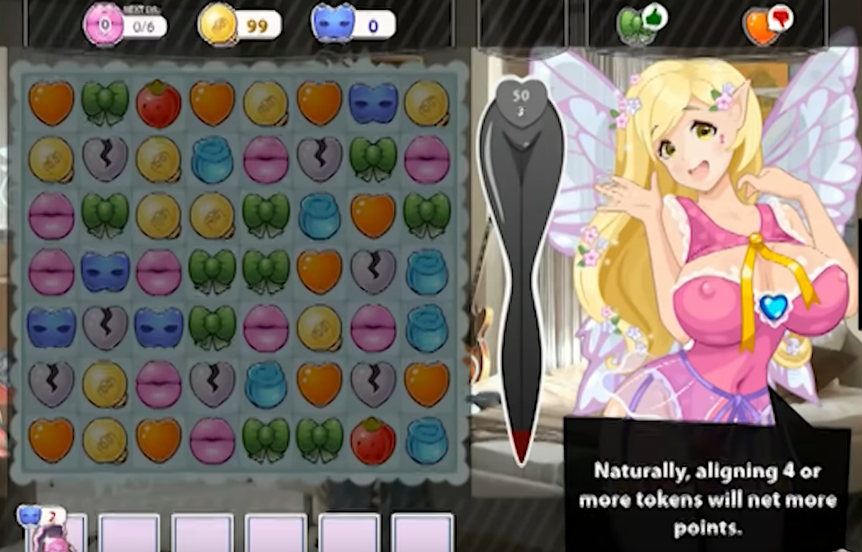 Simple enough, right? You simply drag the icons around to get three in a row. Nothing too complex going on here. Also, a sexy XXX anime girl flanks you while you solve the puzzles.
The icons represent skills needed to date the anime girls. For example, strawberries are sex skills and cubes represent how charismatic you are.
The Date Stage
Once you accumulate enough points, you move on to a new level (date). You must complete a puzzle to earn a date.
By design, each puzzle completion reveals a little more adult fun for you. This keeps you coming back for more.
The "pussy meter" will keep tabs on your progress in the game.
Your dates and communications all occur through your Pussy Saga mobile phone. Yes, it's not a real phone, it's just a phone provided by the game's console.
Once you complete five dates or five puzzles, you get to have a XXX anime experience. Complete enough puzzles date multiple anime girls.
Essentially, the 6th puzzle is the board that gives you the opportunity to have sex. Once you've had sex, she's yours. You can request nude photos anytime you want. She must sext back. She must comply with all your virtual requests, including the nasty ones.
Beyond that, you can consistently enhance your girl's personality to fit your liking. You can buy her gifts and store tons of nude sexting photos. There are ways to open up quizzes with her that allow you to accumulate more in-game points.
Build Businesses
Once you have enough girls in your Pussy Saga harem, you can build a business (or as many as you can) that allows them to work. Businesses also give you clout with the girls.
You can buy buildings and term them into cam studios, or whatever you feel is appropriate work for them.
Pussy Saga Costs…
The goal is to unlock as many girls as possible. But here's the downside to that. Once you unlock a specific number of girls, you'll be hit with a payment form. Yes, you'll need to put down your cock and pull out your credit card.
And not only that, but Pussy Saga potions and other items that advance you in the game will costs. So it's not as if you pay for Pussy Saga once, if you really get into things, expect to be prompted to pay a number of times through your journey.
I'm pointing this out because as you know, we focus on free porn games around here. You know, the ones that stick it to the advertisers.  Also, Pussy Saga is known as a "free porn game" but the marketing pitch runs counter to reality.
Pussy Saga Interface
For the most part, the in-game interface is obvious in terms of what you need to do. This is mostly because, as my Pussy Saga review has pointed out a number of times, this game isn't breaking a mold. We've all seen these puzzle before in HuniePop and Candy Crush.
That said, there are times when your screen may get busy. And that's not a good thing. You almost get confused as to what the heck you even need to be doing.
Here's an example.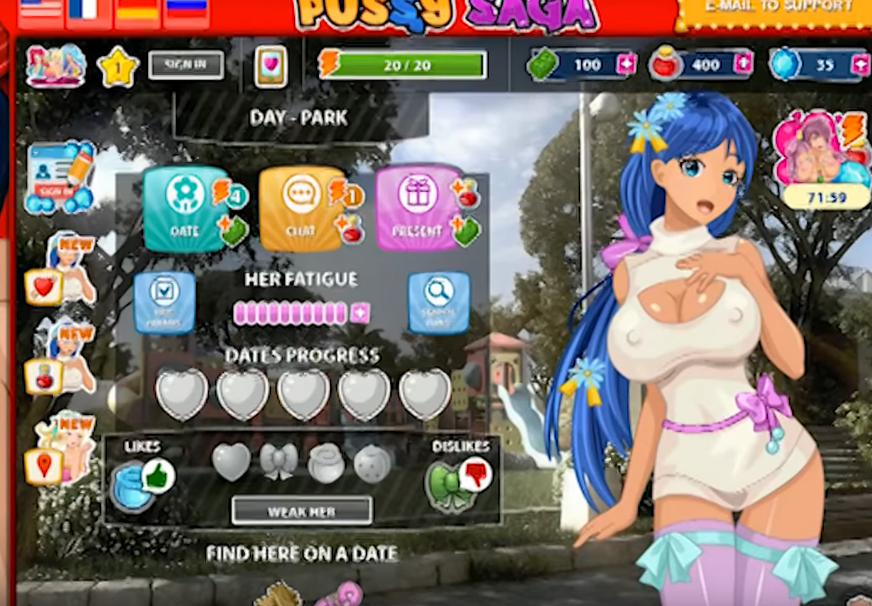 It's just, a lot. Almost as if the developers just didn't want to take the time to organize things. You'll figure it out, but it may drain your energy a little in the process.
Pussy Saga Languages
English
Chinese
Japanese
Russian
Spanish
German
French
Pussy Saga Device Requirements
For the most part, any device that handles flash can handle Pussy Saga. I'd encourage you to make sure your flash player is upgraded to the latest version.  Pussy Saga is available on Android, but I don't list it on our best Android porn game list. Because there are much better games for Android users.
Conclusion
Pussy Saga is a decent game, but the busy interface and the constant upgrades make it a struggle to enjoy. I'd encourage you to check out some of our free porn game options instead.
If you enjoy Candy Crush or HoniePop, you might enjoy Pussy Saga's style. In the end, my Pussy Saga review amounts to a 4 out of 10.