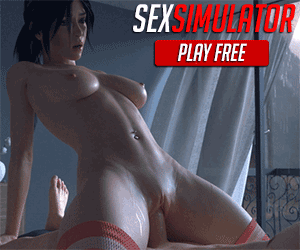 In today's gaming world, whether it be porn games or mainstream games, virtual reality by far engages at the highest levels. These days, virtual reality porn is booming. Adult gamers crave it.
But what's so special about virtual reality porn games? A lot more than the obvious, it turns out.
The world of virtual reality porn continues to boom. But what does it feel like?
Less Controls, More Immersion
As with many of our free virtual porn games, you aren't enslaved by controls. You wear a VR headset and your duty mostly serves to relax and experience. You engage through your movements and capacity to experience an immersive environment.
Because you aren't blundering around with point and click mouse play, you are more emotionally and sexually invested in what's right before your eyes.
It's a three-dimensional play where wicked or gentle sexual experiences become you. Because, you're all there, not gaming about, but feeling, touching, nearly smelling.
In a real sexual experience, you don't point and click to find the entry to a door. Instead, you engage mentally and physically. This is how VR attaches to every deep crevice of your brain. It's how you end up immersed.
You're Surrounded
In a VR porn game, the action isn't flatly before you as it is when you play a mobile porn game or a desktop porn game. You're no longer viewing sex on a flat-screen.
Instead, the sexual action surrounds you. Rooms possess actual corners and windows and kitchens that are located all around you.
The VR headset allows for a 360 perspective. Turn your head and you see another part of a room, potentially, another sex act or sex partner in wait.
Surround Sound Blows … Your Mind
Receiving a blowjob or even handjob with a full surrounding perspective and surround sound is off the chains hot. I know, you can hook up speakers to your laptop and that goes along way. You can also wear noise reduction headphones, and that goes even further.
But when you combine VR with stereo surround sound, you immerse yourself beyond comprehension in a furiously hot sexual act.
Sound, as it turns out, is meaningful in sex. I think we all know that, but we tend to underrate its influence.
Now here's the kicker, a lot of VR headsets don't have great onboard sound. The solution is to add on a headset that plays nice.
Here's how you do that.
Virtual Sex Fascinates, Brings You To Orgasm
Whether you are a guy or a girl, VR porn games allow you to get super hot and bothered and eventually, orgasm. And the orgasms can be the most intense you've ever experienced.
Why?
Glad you asked.
Because you're choosing your sexual fantasy through a porn game. You decide what type of porn game you enjoy, find it, hopefully for free, and then immerse yourself.
I'm not suggesting that VR porn games replace the real thing. Rather, I'm saying that virtual reality porn games are the closest digital medium to the real thing. It's a lifelike experience from the sound to the visuals to the lack of controls. Your movements matter in VR.